Buying a diamond does not have to be an uncomfortable experience. The Lumera Diamond Education Guide is designed to give you the tools and information you need to properly evaluate diamond quality and value with confidence.
Every diamond is unique, and there are a variety of factors which affect the price of a diamond. Focus on those factors most important to you, and choose a diamond that satisfies your individual standards for beauty and value. This might be a very different diamond than someone else with a similar budget would choose. At Lumera, we want to help find the best diamond for you.
You also have access to a personal diamond consultant; who can walk you through the diamond selection process or answer any questions you have. Chat online, or send your request to consultant@lumeradiamonds.com.
DIAMOND GRADING CHART
Every diamond certified by the GIA undergoes a thorough, independent evaluation. Here you will learn how GIA diamond grades are established, and how those grades affect the diamond's price. Each of the four C's (Carat Weight, Cut, Color, Clarity) is accompanied by a diamond chart illustrating the differences between grades.
After learning more, if you need to see diamonds in person, visit your local jewelry store. Get a better sense of what you personally value in a diamond. Note the color, cut, and clarity that best fit your needs. While you're there, compare the prices with what you find at Lumera. We're confident you will be pleased with what you find.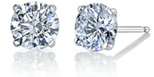 Next: Diamond Shape