When viewing diamonds on Lumera, check the measurements listed for each diamond to understand its size. The length and width will tell you exactly how large the diamond will appear when viewed from above.
Two diamonds of the same shape and carat weight may still appear different in size based on the cut proportions. A deeply cut diamond has a greater proportion of its total weight "hidden" in the depth, resulting in a smaller diameter than a well cut diamond. These differences are usually small, but noticable. A well cut diamond may even have a slightly lower carat weight than a deeply cut diamond, yet still have a larger diameter, making it appear larger in size.
DIAMOND CARAT SIZE COMPARISON
Two diamonds of equal carat weight may also appear very different in size based on the shape of the diamond. For instance, a 1 carat marquise tends to appear larger than a 1 carat round. The chart below illustrates why. For each diamond, the chart shows the following:
Approximate size. The diamond images shown are a very close approximation of the actual size of a 1 carat excellent cut for each shape. Visually, the longer shapes (oval, marquise, pear, emerald) tend to appear larger to the eye than the round and square shapes.
Measurements (Length x Width). The measurements correspond to the shape shown above, and are typical for excellent cut diamonds of 1 carat weight.
Crown Area - The total surface area (mm2). The area gives the true size of the diamond face up (as it would appear when set in a ring). For example, while the oval diamond image appears larger than the round image, the actual surface area is the same for the two shapes, meaning the difference in size is one of perception, not reality. In contrast, the oval not only appears larger than the princess cut, it actually has a larger surface area (approximately 10% larger in this example), meaning the difference is not simply an illusion created by the elongated shape.
Remember that while the measurements below are typical, every diamond is unique.
Size

x

6.50

x

6.50

5.58

x

5.46

7.76

x

5.69

10.18

x

5.33

8.67

x

5.66

6.12

x

5.69

6.57

x

5.09

5.68

x

5.60

6.35

x

5.39

6.14

x

6.89

Crown
33.2
30.2
33.3
36.9
34.0
29.2
31.8
28.7
32.1
28.1
To see the actual size of each diamond shape at various carat weights, print the diamond carat size chart below: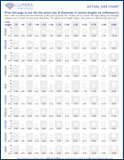 PRINTABLE DIAMOND SIZE CHART
Print a copy of our complimentary diamond size chart to see the actual sizes of diamonds of various shapes.
PRINT SIZE CHART
(Requires Adobe Acrobat Reader. Download it here for free.)
Questions about carat weight or other aspects of a diamond? Ask a diamond consultant for answers. A consultant will answer any questions you have, and if you like, search for diamonds on your behalf that match your criteria. Chat online, or send your request to consultant@lumeradiamonds.com.
Buying Tip:
Look for diamonds that fall just under popular carat weights such as 1/2 ct. 3/4 ct., 1 ct., etc. Because these diamonds fall just shy of the popular weight, they are often sold at a slight discount compared to diamonds of full weight. For example, a .90 carat diamond will typically cost less on a price-per-carat basis than a full 1.00 carat diamond. Visually, they are difficult to distinguish. In fact, a smaller carat weight diamond may have a diameter equal to that of a heavier diamond, making it appear the same carat size when viewed from above.
Visit the Lumera Diamond Buying Guide for additional tips and advice.