GIA Loose Diamonds
Welcome to Lumera, the best place to buy a diamond. Lumera offers the lowest price (up to 40% lower than the lowest sale price at traditional jewelry stores) combined with excellent service (our diamond consultants are available to answer every question), allowing you to find the best option from a selection of over 50,000 GIA diamonds.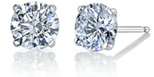 With every purchase, you will receive:
Not sure what ring size you need?
Find out using our free ring sizer.

GO